AccountEdge System Requirements
Updated: 26 July 2022
AccountEdge Pro

AccountEdge NE

Operating System

macOS 12.0, 12.1, 12.2 Monterey
macOS Monterey 12.3 or later requires AccountEdge Pro Build 25.1.10E or later
macOS 11.x Big Sur
macOS 10.15.x Catalina
macOS 10.14.x Mojave
macOS 10.13.x High Sierra

macOS 12.0, 12.1, 12.2 Monterey
macOS Monterey 12.3 or later requires AccountEdge NE Build 25.1.10E or later
macOS 11.x Big Sur
macOS 10.15.x Catalina
macOS 10.14.x Mojave
macOS 10.13.x High Sierra

Hardware

Intel or Apple M1 & M2 processor
4GB RAM or more
2GB available hard disk space for application installation

Intel or Apple M1 & M2 processor
4GB RAM or more
2GB available hard disk space for application installation
Note that UNIX-formatted hard drives are not supported

OfficeLink (Optional)

Microsoft Office 2011, 2016, or 2019 for Mac
* MS Office 2011 is not supported on macOS 10.14 Mojave or later
Microsoft Office 2011, 2016, or 2019 for Mac
* MS Office 2011 is not supported on macOS 10.14 Mojave or later
Internet
Internet access required for registration, accessing program updates, payroll updates and online help
Internet access required for registration, accessing program updates, payroll updates and online help
Network
For better performance

Apple M1 or M2 processor with 8GB RAM or more
SSD (Solid State Drive)
macOS 11.x Big Sur or later

Apple M1 or M2 processor with 8GB RAM or more for host computer
Wired 1000 BaseT/Gigabit Ethernet Network
SSD (Solid State Drive) on host computer
macOS 11.x Big Sur or later
How do I find my Mac's specifications?
To check if your computer(s) meet AccountEdge's system requirements, click the Apple button at the top left corner of your screen and select About This Mac, example shown below: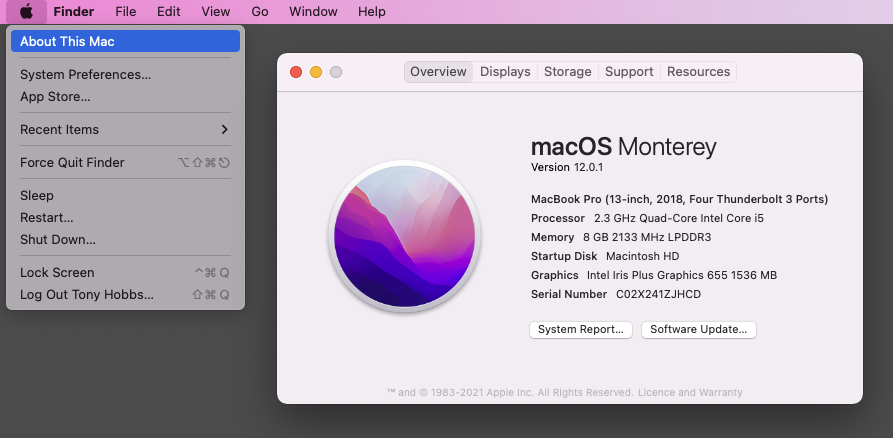 What are my computer's upgrade options?
You should consult Apple or your IT administrator about your options for upgrading your computer's macOS.
Before performing any macOS upgrade, you should ensure the compatibility of all your business critical software and hardware, and ensure you have an external backup of your AccountEdge company data.
System Requirements for Legacy Versions of AccountEdge
Note:
AccountEdge Pro replaced AccountEdge and AccountEdge Plus from November 2021.
AccountEdge NE replaced AccountEdge Plus NE from November 2021.
AccountEdge Pro products introduced support for macOS 10.15 Catalina and later, and Apple M1 processors.
A list of the System Requirements for legacy versions of AccountEdge and AccountEdge Plus products can be found below:
AccountEdge & AccountEdge Plus versions 2010 to 2021
AccountEdge Plus NE (Network Edition) versions 2010 to 2021