Making Tax Digital
Retreive VAT Obligations

Error 500: Internal Server Error

Error 503: Server Error - API is currently unavailable

All MTD Errors: 500 - 599
Article ID: 2025241 Last updated: 15 July 2022

When attempting to authorise MTD, set the VAT period, or submit VAT returns you may receive errors between 500 - 599.
Examples: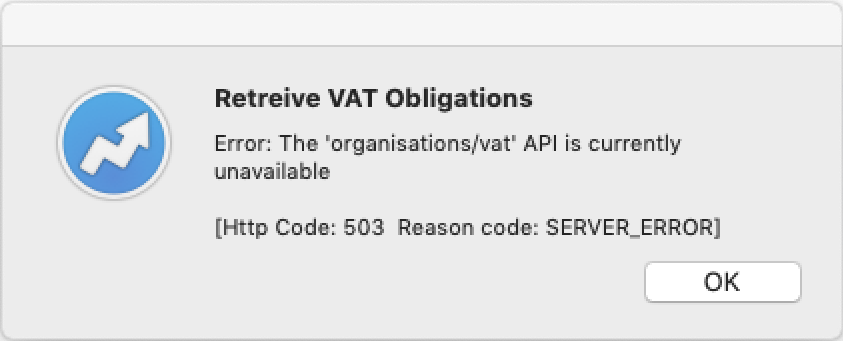 All MTD errors 500 - 599 are generated by the HMRC gateway
Errors 500 - 599 indicate that Making Tax Digital services are currently unavailable due to either:
Scheduled maintenance of HMRC servers
The HMRC server is down or experiencing problems
These errors do not affect AccountEdge data and do not result in losing reconciled VAT returns or similar.
Do not attempt to continually submit VAT returns if you receive MTD errors 500 - 599.
1. Check HMRC service availability (linked below) - but note that this is not always entirely accurate!
2. If no HMRC service information is provided, wait for an hour or more before attempting your submission again.
Making Tax Digital: Service Availability
You can check HMRC's MTD service availability by CLICKING HERE.