Making AccountEdge Backups
Article ID: 2027015 Last Updated: 16 August 2023
Making backups of your AccountEdge data is vital for the ongoing security of your business. You should be making a backup of your AccountEdge data daily or when finishing each session.
In addition to making backups directly from AccountEdge, you should also have a robust overall system backup in place that allows your backups to themselves be backed up to an external disk and/or cloud location in case of computer or property damage, loss or theft.
This article shows how to make the most basic local backup of AccountEdge data.
In conjunction with this article, all customers should read: AccountEdge Backups – Best Practice & Considerations
Check Your AccountEdge Backup Settings
In AccountEdge, go to Setup> Preferences> Security.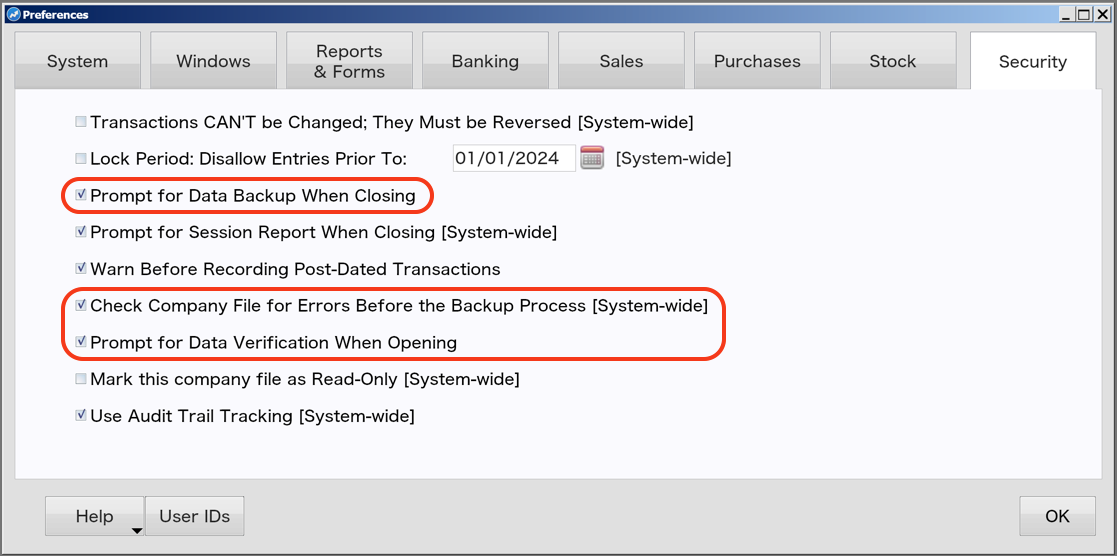 It's recommended that the following are ticked:
Prompt for Data Backup When Closing
Check Company File for Errors Before the Backup Process
Prompt for Data Verification When Opening
These settings will ensure that, if carried out when prompted, you are no more than one session away from a fully verified backup.
If you operate more than one company file in AccountEdge, check these settings in each file.
Making a Backup
With the settings above, you will be prompted to make a backup upon closing AccountEdge.
You can also make a backup at any time by via File> Backup…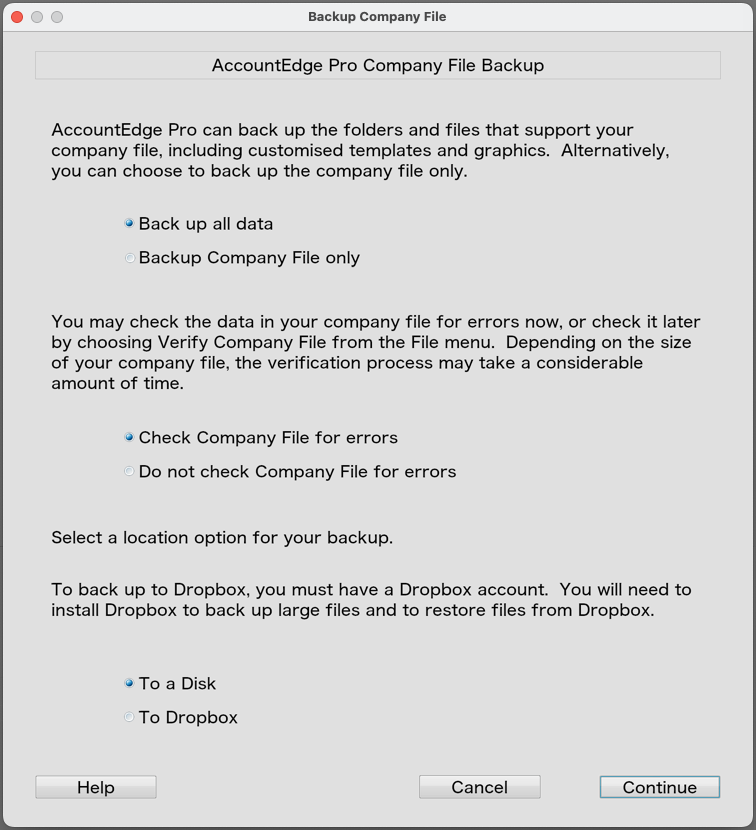 We recommend that you:
Back up all data
Check Company File for errors
backup To a Disk
'To a Disk' means to any local folder, local drive attached to your computer, or network location if present.
If you wish to backup to Dropbox, it is more efficient these days to directly save the backup file to your computer's Dropbox folder, rather than have AccountEdge itself upload the file to the cloud. Speak to your system administrator or Ledger One support if you require more information.
When you are happy with your backup choices, click Continue.
Choose the Name and Location of Your Backup
You will be presented with a simple Save As window, in which you can choose the name and location of your backup file.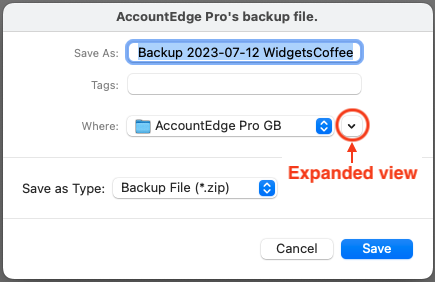 If you prefer a more detailed Save As window, click the down arrow button to provide an expanded view, similar to Finder.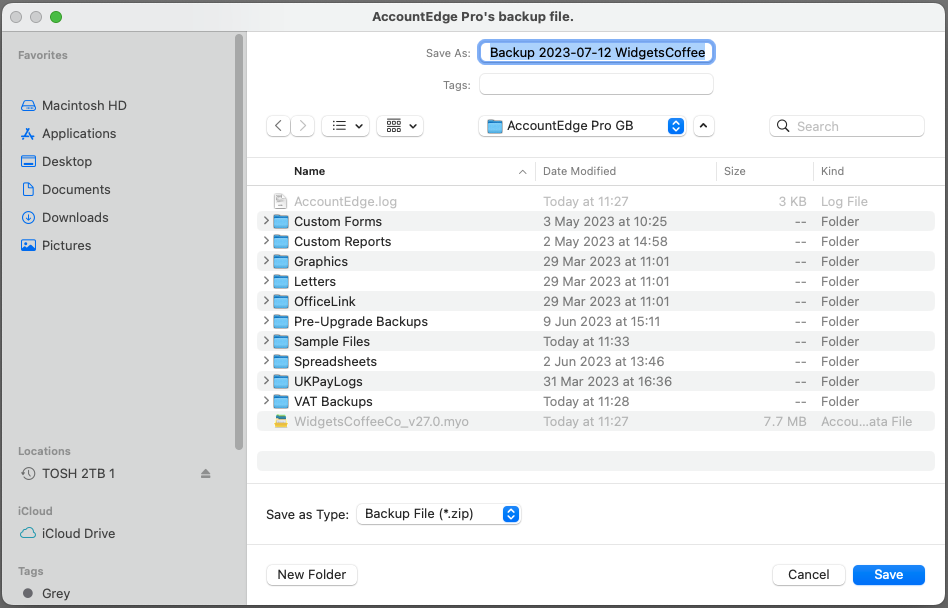 Generally, the default backup file name will be sufficient, however it's recommended to change the backup name when making 'milestone' backups for occasions such as bank reconciliations, VAT returns, starting new financial or payroll year and so on.
For example, when making the financial year end backup in our sample company 'Widgets Coffee', you might consider giving the backup a name such as 'WidgetsCoffee FYEnd 2023-24', or similar.
When you are happy with the name and location of your backup file, click Save.
Once the backup is complete, use Finder to navigate to the location of your backup and confirm that the backup file is present.